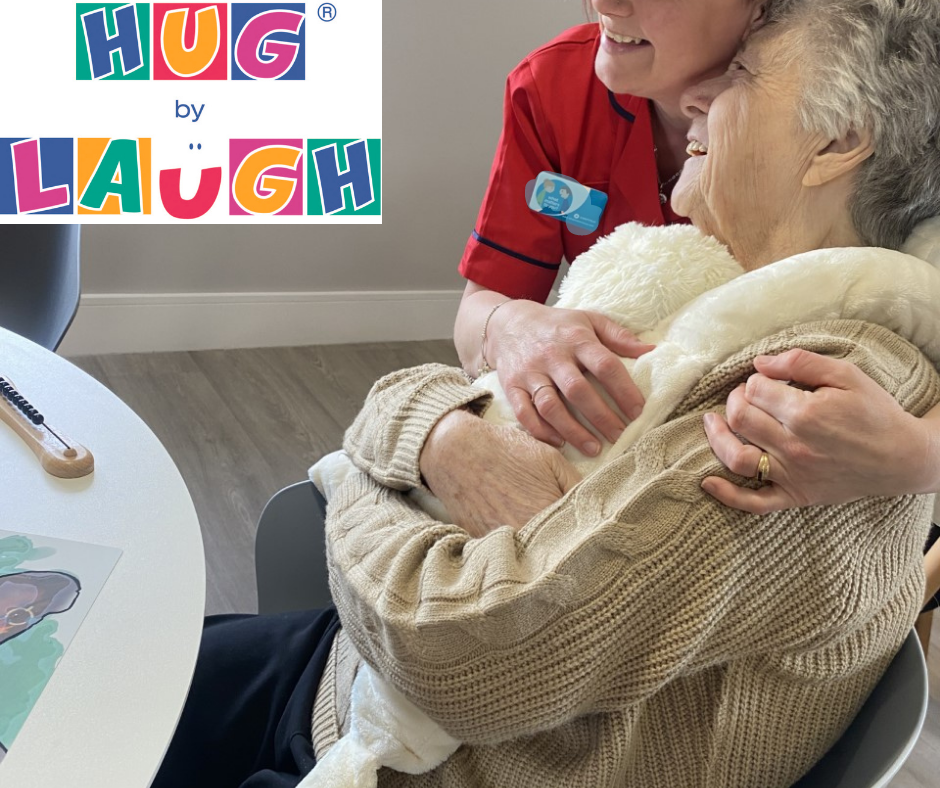 About Dementia
Dementia is a very complex condition. Everyone's experience is different and unique, the symptoms are distinct, and the progression of the disease can vary from an individual to another.
People living with advance stages of dementia are often chair or bed-bound, therefore their experience of the world becomes limited to their immediate surroundings.
Providing sensory stimulation, such as things to touch, handle and hold is increasingly important. People living with dementia can still enjoy simple sensory activities, particularly those involving touch, gesture, and sound.
Agitation and anxiety can be relieved by having something to hold and touch. This can provide a refocus of attention as well as help with boredom.
Music is another great tool to use to relax and get into a good mood. Research shows that music could bring back clues about past life and identity to an individual living with dementia and it can stimulate storytelling and reminiscence.
This is when HUG comes in...
Hug by Laugh is a sensory companion designed to bring pleasure and comfort to people living with dementia. It has long weighted limbs to give you a hug, a beating heart inside its soft body, and a music player that can play music from your favourite playlist.
HUG is making a positive difference to the lives of many people who feel anxious, lonely or distressed. HUG by Laugh was designed in the UK for people living with advanced dementia but is now being used to comfort all kinds of people.
The Story Behind this Amazing, Innovative Sensory Device
Designed by a team from Cardiff Metropolitan University to bring pleasure and comfort to people with dementia. Researchers visited a care home in Port Talbot and decided to create something to help Thelma, a resident living with dementia because her carers said that "she was in need of a hug".
Thelma was in her late 90s, living with advanced dementia. Everyone around her thought that she was coming at the end of her life. She was mostly bedridden rarely opening her eyes and hardly ever speaking.
The research team, after having involved lots of dementia experts, focused on the main key theme that came up most in their discussions was the need of nurturing. HUG can fulfil two needs: it involves you in giving the hug but is also reciprocal as it has the weighted limbs that gives you the feeling that it hugs back. Professor Treadway worked out with great care and detail on the "hug" idea and said that the "designed was focused on creating an object that Thelma could hug and that could hug her too."
As soon as Thelma was given the HUG, she soon showed some improvement. She was more alert, her appetite returned, and she started to speak more, socializing with the other residents. The positive outcome lead to production on a wider scale to help more people. 
Everyone has the right to live well and experience happiness and pleasure. Ensuring that people living with dementia have the potential to live well despite all the challenges, is very important. 
The numbers
Dementia is a growing challenge for the health and care sector. As the population ages and people live for longer, it has become one of the most important health and care issues facing the world.
According to Alzheimer's Society, it is estimated that in the UK, the number of people with dementia is going to be over 1 million by 2025.
At Story & Sons we are partnering with larger brands to help people live independently for longer as well as manufacturing products that help people live well with dementia.
If you would like to purchase a HUG for you or for someone, it is available HERE along with other sensory companions and dementia products.
If you are affected by dementia and you would like to find out more information, check the Alzheimer's Society website.