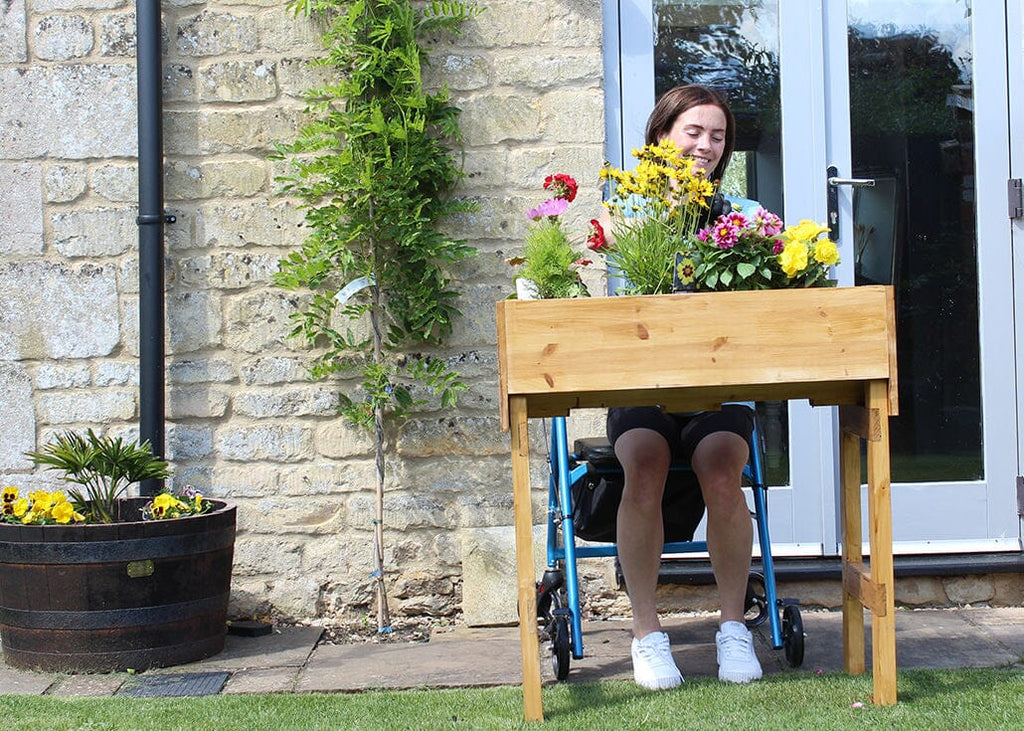 Gardening is an activity that many people enjoy and want to continue doing even if they have some restrictions on mobility or poor vision.  Gardening is beneficial for both physical and mental wellbeing.  The sight and smell of plants and the opportunity to be in contact with nature are all part of the positive experience.  Gardening is an activity that builds our physical stamina and helps to keep us active and able to carry out other physical tasks such as bending, standing, and lifting.

Top tips
Choose lightweight tools which are made from plastic, aluminium, or carbon fibre instead of heavy steel. If you have difficulty bending long handled tools extend the reach which limits how far you need to bend.  Planning the garden environment with raised beds or raised tubs will also reduce the need for bending. Consider using ground cover plants, using woodchips or gravel to reduce the amount of weeding.
If you enjoy gardening but are finding bending over and gripping garden tools there are some products which can help you:
The Easi-grip range can be used with your long handled tools and enable a better hand hold and grip.
Easi-grip add on handle
Easi-grip arm support cuff to allow the forearm to be used which provides extra strength
Easi-grip trowel with ergonomic handle
Author: Caroline Hayden-Wright
MSt Primary and Community care, BSc (hons), Dip COT

Registered Occupational Therapist HCPC

Member of Royal College of Occupational Therapists

Caroline has been an Occupational Therapist since 1986 and worked at Addenbrookes Hospital in Cambridge for 14 years. She worked with people living with dementia, people with cognitive difficulties, neurological conditions, and those with a range of long-term conditions such as arthritis, heart disease and stroke.

This was followed by four years as a community Occupational Therapist working with people in their own homes, enabling people with physical and cognitive difficulties to live as independently as possible.

Caroline has more recently worked as a Training Consultant for several major charities who provide services for older people and people living with dementia. Caroline is also currently working as a Lecturer in Occupational Therapy for Anglia Ruskin University in Cambridge, working on the development of a new pre-registration MSc course in Occupational Therapy.